Features
Available in 68″(large)/78″(X-Large)
Strong, lightweight aluminum construction handles heavy loads
The engineered aluminum construction delivers superior support
Integrated tie-down points simplify load security
T-slot attachment technology makes adding gear mounts quick
Mount ladders, bikes, kayaks, and rooftop tents
Features
Purpose-built and tested for overland travel on rugged terrain
Engineered aluminum construction provides durable look and feel
Sits 13″ above bed's side rails—ideal for rooftop tent placement
Mid-height position provides easy gear access and a low center of gravity
Note: Yakima HD Bars are not included and must be purchased separately
Features:
The uprights are easy to take on and off the truck in minutes, with the Patent Pending QuickChange™ rack attachment
Multiple tie-down points and the ability to fit most truck beds with the heavy duty BedGrip™ clamp design
Can be used with some tonneau covers (adapter required and sold separately)
Great for utility and sport use—haul lumber on work days, adventure gear on days off
The crossbar height can be adjusted 19-30 inches to suit your needs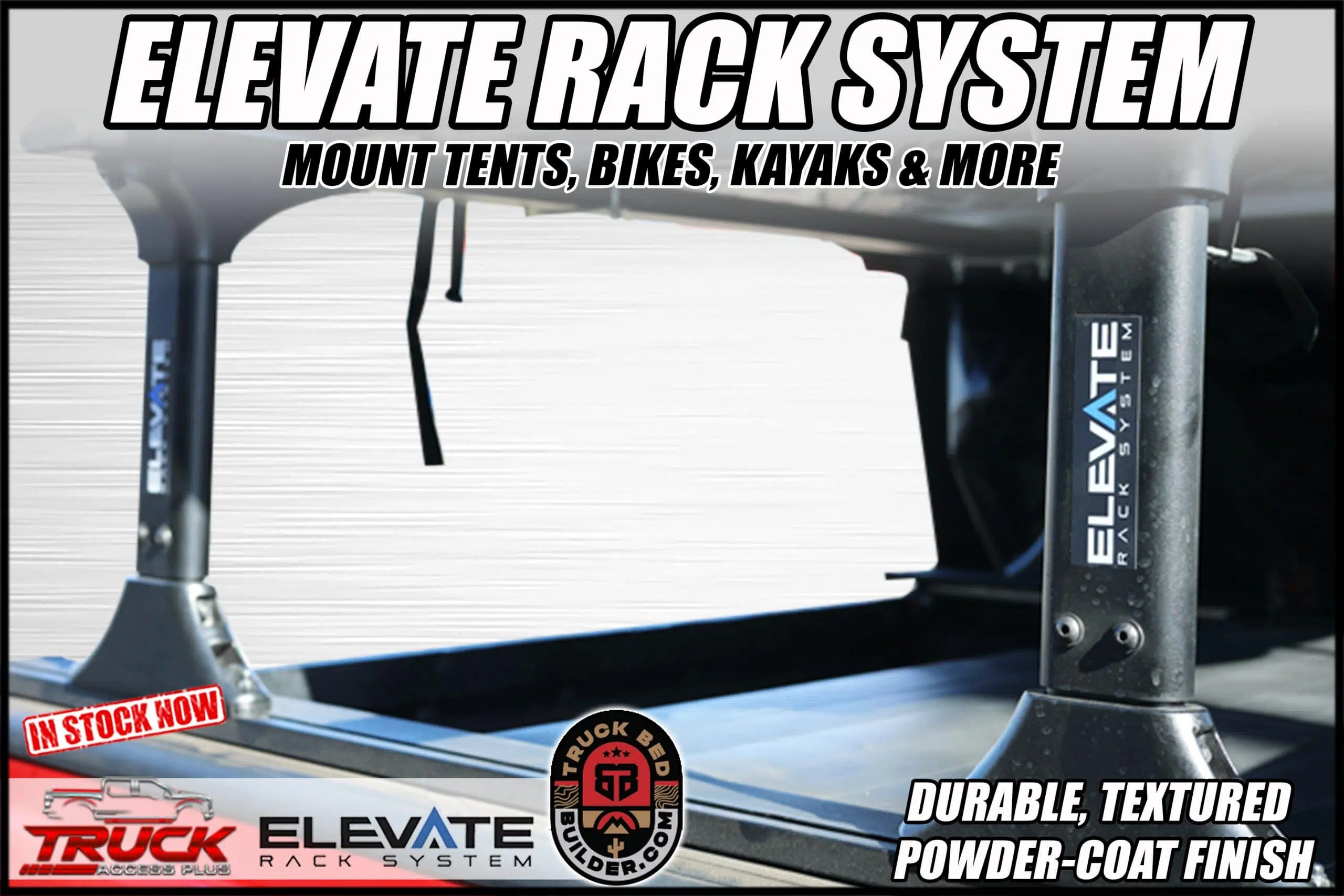 Racks Load Rating: Maximum on road of 500 lbs. & maximum off road of 250 lbs.
Work or Play: Strong enough to carry bikes, kayaks, rooftop tents, baskets, ladders & more
TS Rails can be used to install a variety of T-Slot equipped racks and inside mount truck bed covers
Robust aluminum construction with a durable, textured powder-coat finish
Installs in minutes with no drilling or special tools
BACKRACK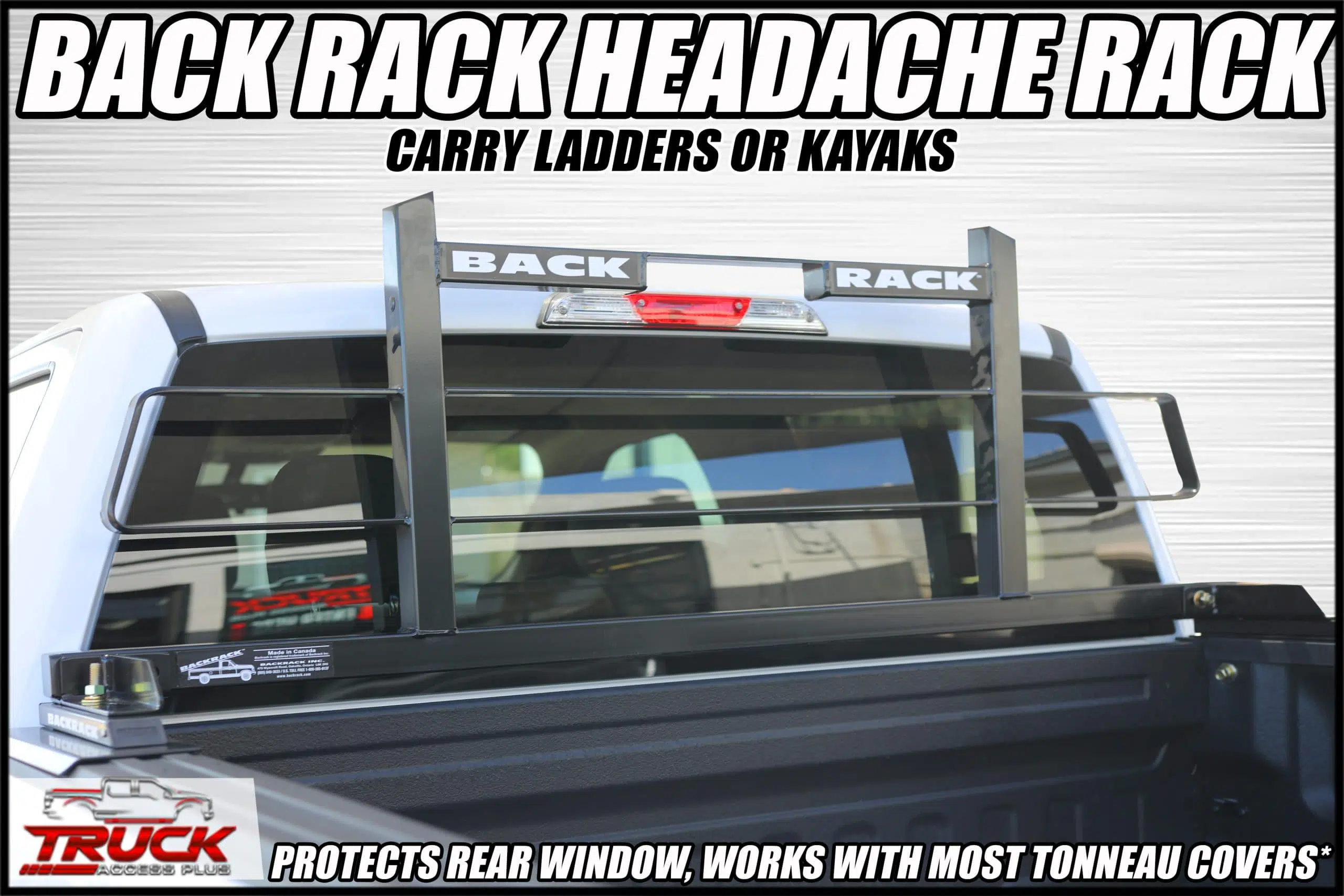 People buy truck bed racks for a variety of reasons, including:
Increased storage space: Truck bed racks provide an additional level of storage on top of the truck bed, allowing for more items to be transported.
Improved functionality: Truck bed racks can be used to carry larger items such as ladders, canoes, or kayaks that might not fit inside the truck bed.
Enhanced appearance: Truck bed racks can give a pickup truck a more rugged, off-road appearance.
Off-road capabilities: Truck bed racks can be used to mount gear, such as spare tires or a roof-top tent, when driving off-road.
Versatility: Some truck bed racks can be easily removed or adjusted to accommodate different cargo needs.
Improved aerodynamics: By allowing items to be transported above the truck bed, truck bed racks can improve the vehicle's aerodynamics and fuel efficiency.
Overall, truck bed racks are a useful accessory for those who frequently transport large or bulky items and need additional storage space in their pickup truck.
Yakima is a company that specializes in producing high-quality roof-mounted and truck bed-mounted bike racks, cargo boxes, and other outdoor gear. Their truck bed racks are designed to securely transport gear and equipment in the bed of a pickup truck, freeing up interior space.
Some of the features of Yakima truck bed racks include:
Versatility: Many Yakima truck bed racks can be adjusted to fit different truck bed sizes and styles.
Security: Yakima truck bed racks use locking systems to ensure that your gear stays in place and is secure during transit.
Durability: Yakima truck bed racks are made from high-quality materials and are built to withstand the toughest conditions.
Convenience: Yakima truck bed racks are designed to be easy to install and remove, making it simple to switch between hauling gear and using the bed of your truck for other purposes.
There are several different Yakima truck bed rack models to choose from, depending on your specific needs and the type of gear you plan to transport. Some popular options include the Yakima OutPost HD, the Yakima BedRock, and the Yakima LoadWarrior.
Overall, Yakima truck bed racks are a great choice for anyone who needs to transport gear and equipment in their pickup truck. They are durable, secure, and versatile, making them an excellent investment for outdoor enthusiasts and contractors alike.