Yakima OverHaul HD Adjustable Rack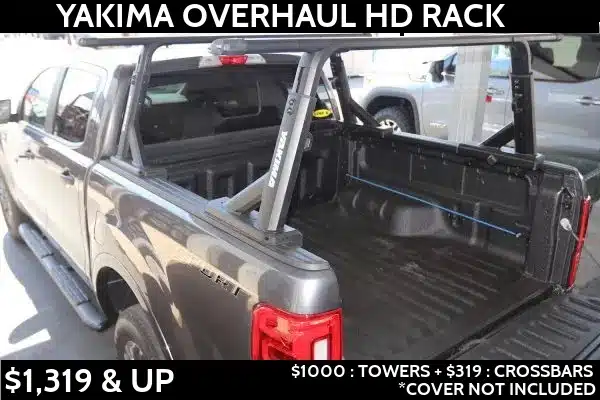 Adjustable height from 19″- 30″ to create custom set-ups for maximum utility and versatility
Additional required kits needed for tracked beds (Track Kit 1) and select tonneau covers (Tonneau Kit 1)
Built to last with engineered aluminum construction and a durable powder-coat finish
Compatible with all Yakima mounts to carry kayaks, surfboards, bikes, rooftop tents, lumber and more
Integrated tie-down points help easily secure any load
T-slot attachments make adding gear mounts and accessories fast and simple
Integrated SKS (Same Key System) locks to secure your rack system to the truck bed
Works seamlessly with the new Yakima HD Bar crossbar in 60″/68″/78″ lengths (Sold Separately)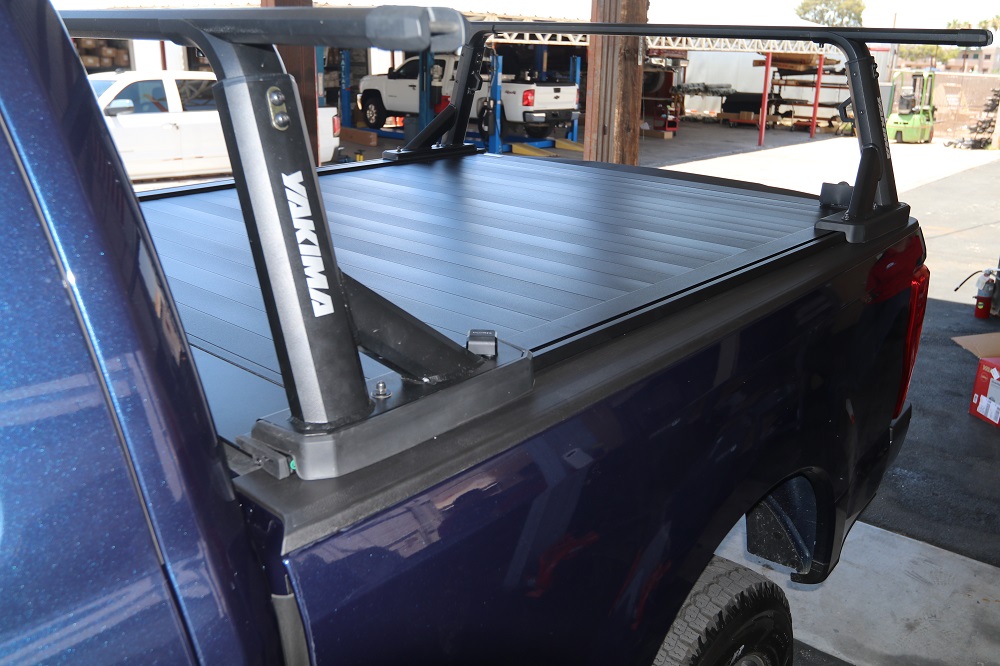 The crossbar height can be adjusted to suit your needs: way up, for long loads to go over the cab—or down low, to get the rack out of the wind. The uprights are easy to take on and off in minutes, so the truck's only racked-up when needed.
Leveraging our new HD Bars for a 500-lb. on-road carrying capacity, and paired with Yakima's 300-lb. Off-Road Rating, the OverHaul HD truck rack is the ideal foundation for heavy loads. For weekend adventures and hardworking weekdays, the Overhaul HD adjustable truck rack offers best-in-class payload and unmatched versatility.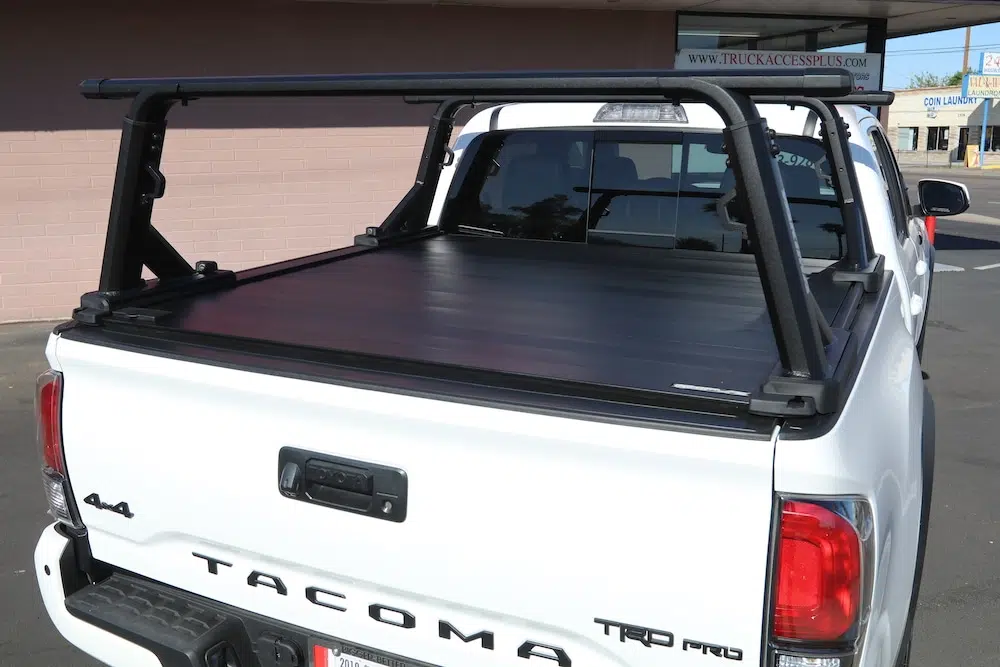 The Yakima OverHaul HD is considered one of the best truck bed racks on the market for several reasons:
Versatility: The OverHaul HD is adjustable, allowing it to fit a variety of truck bed sizes and styles.
Durability: The OverHaul HD is built with high-quality materials, making it capable of handling heavy loads and rough terrain.
Security: The OverHaul HD features a strong and secure locking system, ensuring that your gear stays in place during transit.
Convenience: The OverHaul HD is easy to install and remove, making it simple to switch between hauling gear and using the bed of your truck for other purposes.
Adaptability: The OverHaul HD is compatible with a wide range of Yakima accessories, including bike racks, cargo baskets, and more, allowing you to customize it to meet your specific needs.
stability: The OverHaul HD is designed to provide a stable platform for hauling gear, preventing damage and ensuring that your load stays in place during transit.
Versatile Mounting Options: The OverHaul HD has multiple tie-down points, offering a range of mounting options for gear and accessories, so you can easily transport what you need.
Design: The OverHaul HD has an aerodynamic design, which helps to reduce wind drag and noise, making it more efficient and quiet on the road.
So, someone might spend extra money for the Yakima OverHaul HD because of its superior versatility, durability, security, and adaptability. Its design and performance make it a top choice for anyone who needs to transport gear and equipment in their pickup truck.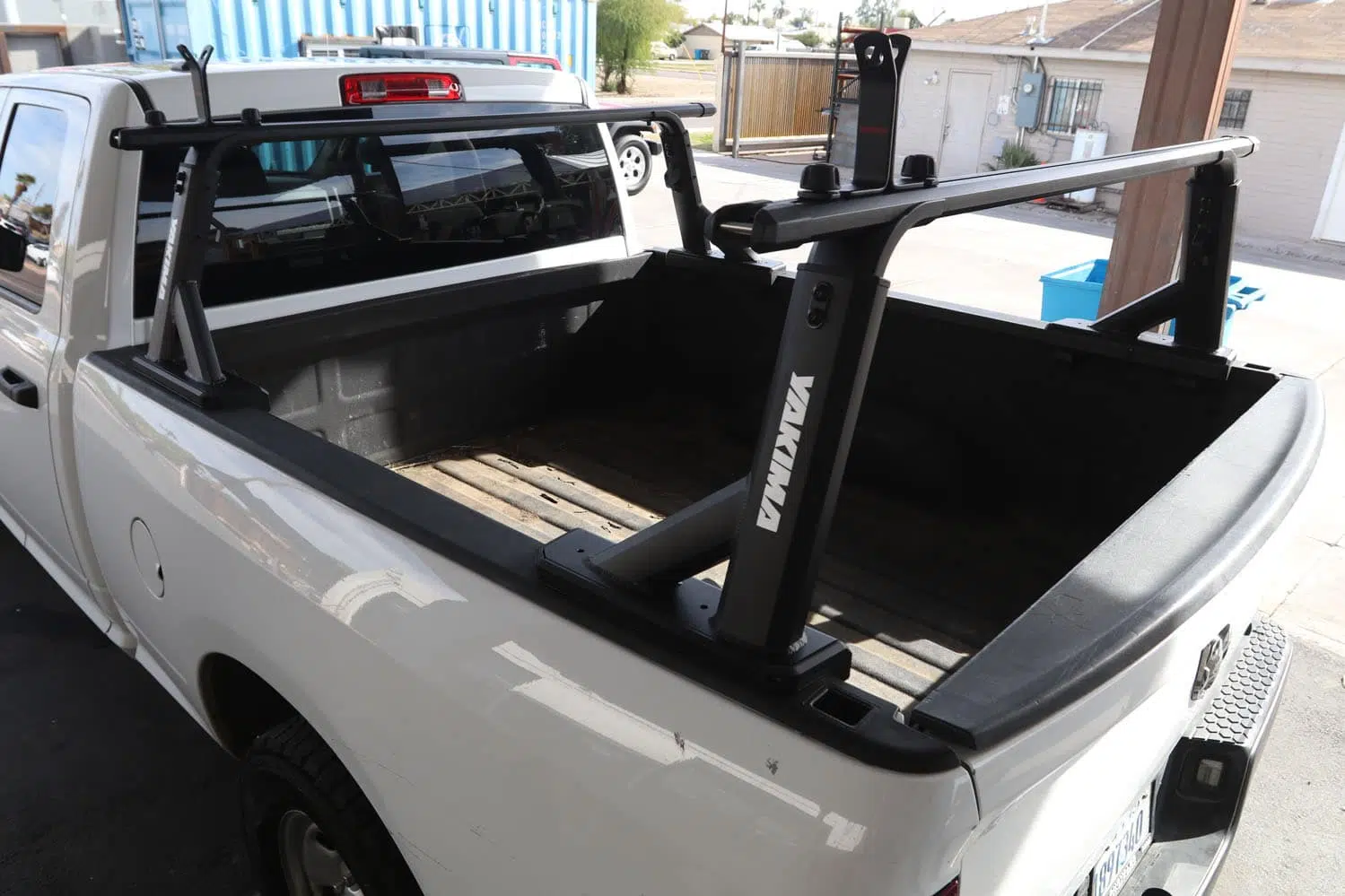 People love going on outdoor adventures, but hauling all of their equipment in the pickup truck can become a hassle. Truck owners have to squeeze his ladders, kayaks, and other longer items into their truck bed, leaving no room for camping gear or other essential supplies.
Individuals often find themselves driving down the highway with the kayak precariously perched on top of the truck bed, swaying with every gust of wind. It is a recipe for disaster, and they knew it was important to find a solution.
One day, a smart shopper stumbled upon the Yakima OverHaul HD adjustable truck bed rack system while browsing online. The system promised to be a game-changer, allowing them to haul all of their gear safely and securely on top of their truck bed.
Shoppers can order the system through Truck Access Plus and get it installed at: 2549 E. McDowell Rd. Phoenix, AZ 85008. The installation is a breeze, and customers are amazed at how versatile the system is. The adjustable crossbar allows everyone to fit even the most awkwardly shaped items, and the load stops kept everything securely in place.
The first time people hit the road with their new truck bed rack system, everyone is blown away. The kayaks and ladders were rock solid, and he could finally haul all of his gear without worrying about it falling off or damaging his truck.
From that day on, truck owners are able to enjoy all of his outdoor adventures without any worries. The Yakima OverHaul HD adjustable truck bed rack system had solved all of their problems, and they couldn't be happier.