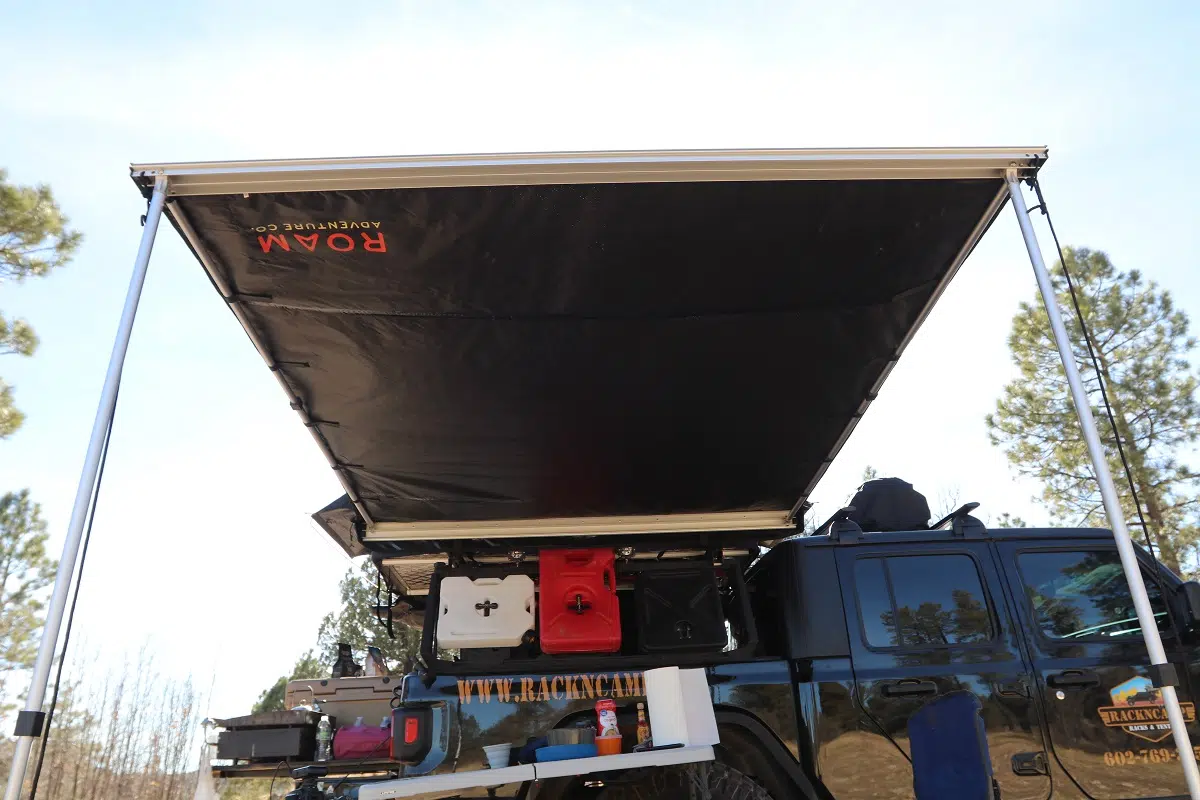 Waterproof PU coated 280g poly cotton ripstop awning fabric
Adjustable height aluminum frame and joints
Durable 720GSM PVC road cover
Universal mounting
Rooftop awnings for overlanding are portable shade structures that can be attached to the roof of a vehicle. They are designed to provide a quick and convenient way to set up a covered area for outdoor activities such as camping, picnicking, or simply relaxing.
Rooftop awnings are important for overlanding because they provide a convenient and easily accessible shelter from the sun, wind, and rain. They also help to protect your gear and equipment from the elements, and provide a comfortable outdoor living space for you and your passengers.
Rooftop awnings for vehicles have become popular in recent years as overlanding and camping have become increasingly popular recreational activities. They offer a convenient and versatile way to extend the living space of your vehicle, providing a comfortable and protected area for outdoor activities.
Rooftop awnings are typically constructed of durable, water-resistant materials such as canvas or vinyl, and are designed to be easy to set up and take down. Many models are equipped with telescoping poles, making them quick and simple to deploy, and some can even be set up in just a few minutes.
People put a rooftop awning on their truck or overland vehicle for many reasons, including the convenience and versatility it provides, as well as the increased living space it offers. It is a great way to extend the usable area of your vehicle and make your outdoor adventures more comfortable and enjoyable.
The price range for rooftop awnings can vary depending on the size, material, and features of the awning. Rooftop awnings can cost anywhere from a few hundred dollars to several thousand dollars, depending on the quality and features you are looking for. It is important to consider your budget and the specific features you need when selecting a rooftop awning for your vehicle.
Explore durable rooftop awnings to attach to your vehicle. The ROAM overhead awnings and awning rooms provide comfortable shelter when camping or on outdoor adventures. Stay out of the elements — rain or shine — with a waterproof, ripstop material.
Our rooftop awnings come in a variety of sizes, ranging from 4 to 8 feet in width. The 6.5-foot and 8-foot awnings can be converted into spacious awning rooms for added protection or indoor dining. The awnings can reach up to 7 feet tall so are compatible with many vehicles. Our universal mounting kit is designed for easy installation with various roof racks.