Tuff Stuff Annex Rooms: Expanding Your Overland Adventure
Tuff Stuff Overland offers a range of innovative products designed to enhance the outdoor experience of overlanders and campers. Among their offerings, Tuff Stuff Annex Rooms stand out as a versatile and practical addition to any overlanding setup. These annex rooms are designed to complement Tuff Stuff Overland's awnings, creating a spacious and comfortable living area that extends from your vehicle.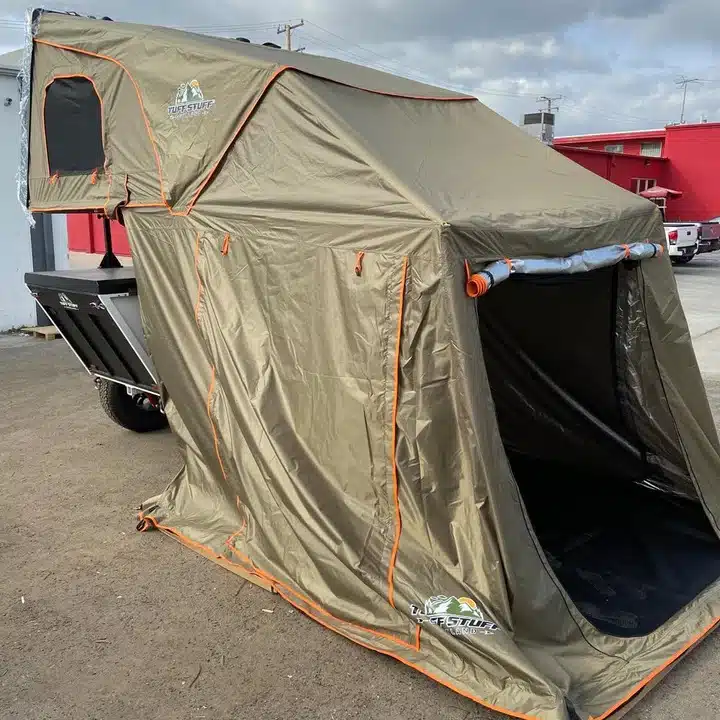 There are several reasons why people choose to invest in Tuff Stuff Annex Rooms. Firstly, these rooms provide additional living space, effectively expanding the usable area of your overlanding setup. This is particularly valuable for longer trips or when traveling with a group, as it offers a comfortable and private space to relax, sleep, or enjoy meals.
Furthermore, the annex rooms offer protection from the elements. They provide a barrier against rain, wind, and harsh sunlight, allowing you to enjoy the outdoors while maintaining a level of comfort and shelter. This is especially important when unexpected weather conditions arise, ensuring that your adventure can continue unhindered.
The versatility of Tuff Stuff Annex Rooms is another appealing aspect. They can be customized and adapted to suit different situations and preferences. For example, some annex rooms include removable walls or partitions, providing flexibility in configuring the space according to your specific needs. This adaptability allows for a personalized camping experience tailored to your requirements.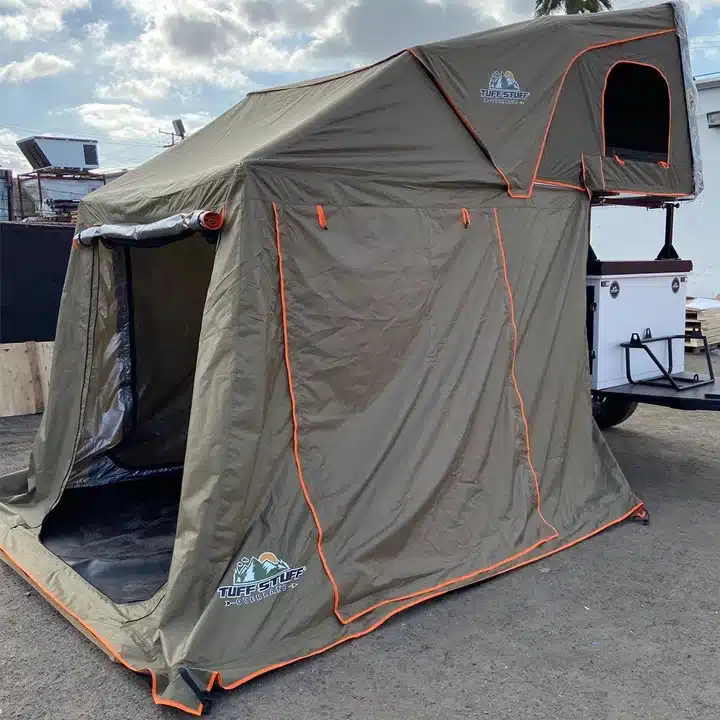 One of the key features of Tuff Stuff Annex Rooms is their compatibility with Tuff Stuff Overland awnings. These awnings are renowned for their durability and ease of use, providing shade and protection from the elements. The annex rooms are designed to seamlessly attach to these awnings, creating a fully enclosed space that can serve as a sleeping area, dining space, or storage area. This integration allows for a seamless transition from outdoor exploration to indoor comfort.
Tuff Stuff Annex Rooms come in various sizes and configurations to suit different needs and vehicle setups. They are typically constructed with durable materials that can withstand the rigors of the outdoors, ensuring long-lasting performance. The rooms often feature multiple windows and mesh panels, allowing for ventilation and insect resistance while maintaining a connection with the surrounding environment.
If you're in the Phoenix, Arizona area and looking to explore the possibilities of Tuff Stuff Annex Rooms, Truck Access Plus is a trusted dealer and professional installer of Tuff Stuff Overland products. Located in Phoenix, they offer a wide selection of Tuff Stuff Overland awnings and annex rooms. The knowledgeable staff at Truck Access Plus can assist you in choosing the right annex room for your vehicle and provide expert installation services to ensure a seamless integration with your overlanding setup.
To see the Tuff Stuff Annex Rooms and other products in person, pay a visit to Truck Access Plus in Phoenix, Arizona. Their store offers a hands-on experience where you can explore the different options available. The staff at Truck Access Plus are passionate about overlanding and are ready to help you find the perfect products to enhance your outdoor adventures.
Tuff Stuff Annex Rooms provide overlanders and campers with a versatile and comfortable living space that seamlessly integrates with Tuff Stuff Overland awnings. With their durability, protection from the elements, and customizable features, annex rooms expand the possibilities of your outdoor experience. For those in the Phoenix area, Truck Access Plus is your go-to destination for Tuff Stuff Overland products, offering professional installation and expert guidance to make the most of your overland journey.