The Vagabond Rooftop Tent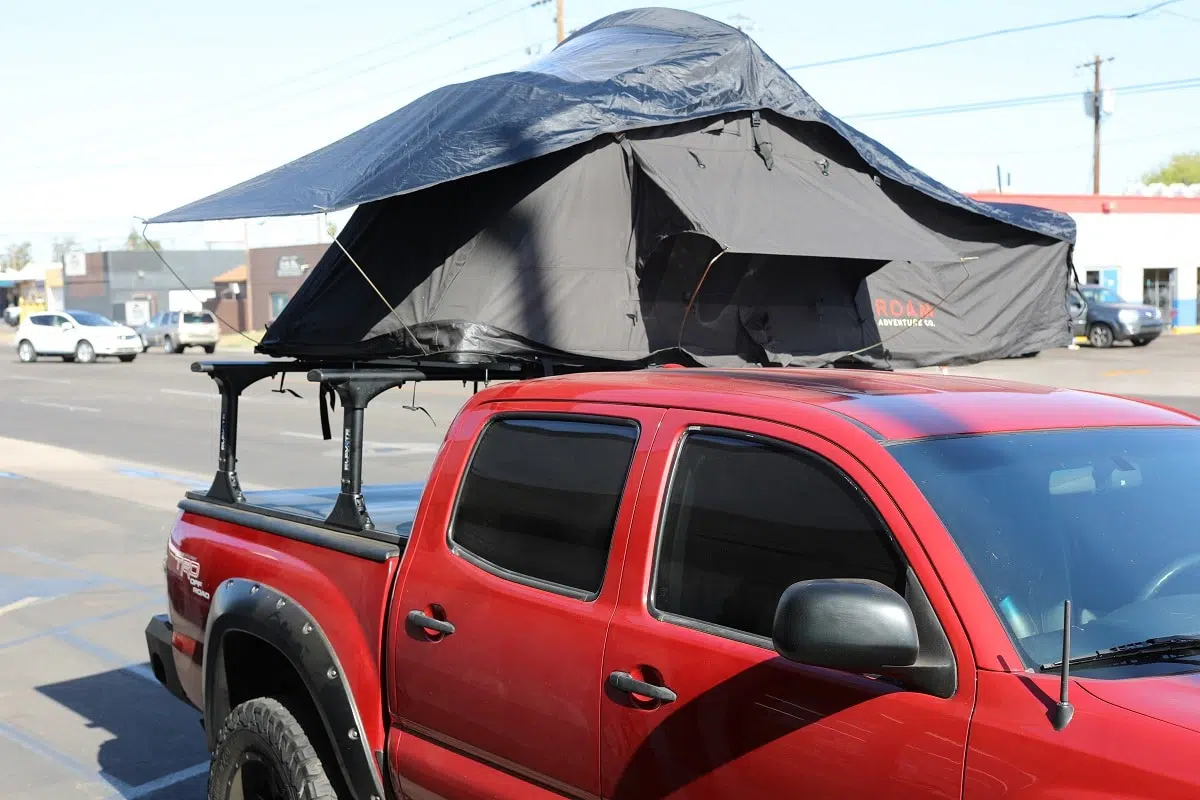 The ROAM Vagabond is a durable foldout rooftop tent that sleeps 2-3 people on top of a high-density foam mattress. This all-weather tent can be easily installed on a variety of roof racks and takes minutes to pitch, wherever you find yourself at the end of the day. The tent is made of rugged polycotton ripstop fabric with a robust diamond weaved nylon rainfly. Enter your new home away from home via a secure yet lightweight telescoping aluminum ladder. The 2 skylights and surrounding windows can be unzipped for maximum views of the night sky and morning sunrise.
Description
4-season Roof Top Tent that can comfortably sleep 2-3 people.
Plasticized aluminum base ensures scratch and dent resistance.
Hanging boot bags works great for keeping your living quarters clean.
Included gear hammock allows you to store valuables off the ground and within reach.
The use of an UltraPlush 2.0 Mattress and Anti-Condensation Mat provides you with maximum comfort.
1 inch aluminum frame with aluminum joints.
Includes a skylight and three windows.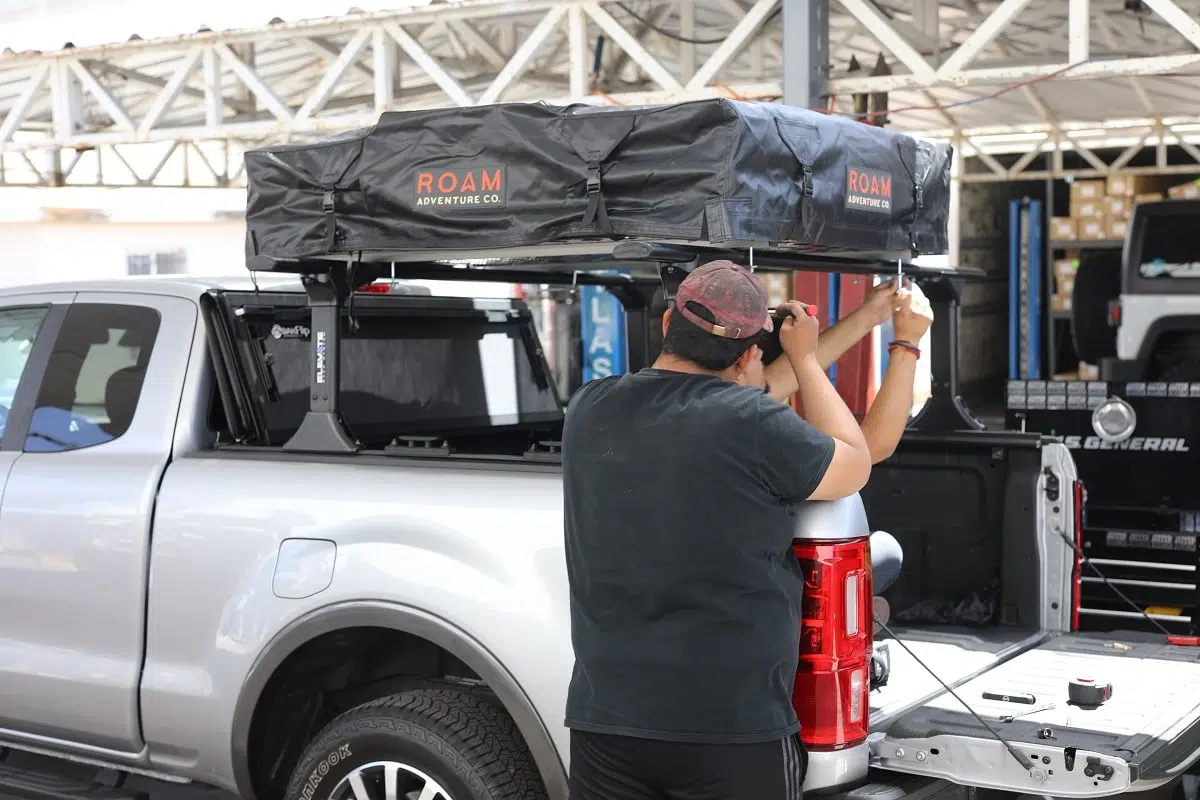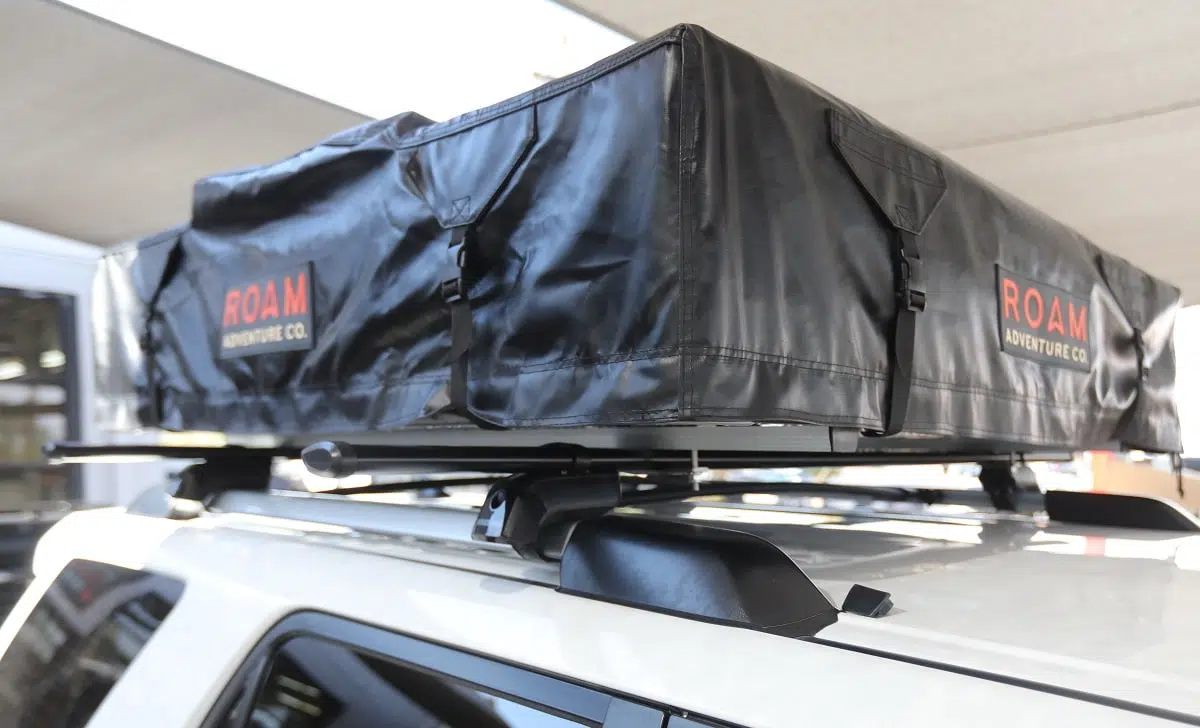 When it comes to style and functionality, Roam Vagabond Roof Top Tents are in a league of their own. Roam Adventure Co. offers two variations of Roof Top Tents. These two models are the standard size Vagabond and the Vagabond XL. This specific product page is dedicated to the standard size Vagabond.
The Roam Vagabond Roof Top Tent is a durable 4-season Tent that has been designed to comfortably sleep 2-3 people (650lbs) at a time. In order to earn the title of being an All-Weather Roof Top Tent, certain standards must be met, such as a heavy-duty construction. This Roof Top Tent features a 1 inch frame that has been innovatively curved to provide you with increased style and strength. In addition, a plasticized aluminum base provides you with additional scratch and dent resistance. The fabric it sports is a 280g ripstop polycotton material that is both UV and mold resistant. The included rainfly is crafted from a lightweight PU-coated oxford polyester. While we're reviewing the materials used, it's important to note that you can choose to receive your Tent in three different color options. These options are Forest Green / Hyper Orange, Slate Grey / Navy Blue, or Black.
This Roof Top Tent comes packed with many awesome features that set it above the competition. 2 PVC rainfly windows provide you with skylight views regardless of the weather, while a large porch window enables you to enjoy the epic landscape. Innovative technology has been used to provide silent zipper pulls, so you can enjoy noiseless and smooth operation. Some other great features that Roam has included is the gear hammock and the included dual-pocket boot bags. The gear hammock provides you with additional space to store valuables securely off the ground, while the boot bags help to ensure that your living quarters remain clean. We could go on for quite some time reviewing the awesome features that this Roam Tent comes packed with but let's skip to the arguably most important part, the mattress that you will be sleeping on. Included with your purchase will be Roam's UltraPlush 2.0 Mattress. This mattress is made from 3 inch high-density foam and comes wrapped in a waterproof base, so moisture should never be of concern. Also included with your purchase is a robust telescopic ladder that allows you to safely enter and exit your Tent. If you're looking to take your outdoor adventures to the next level, look no further than the Vagabond Roof Top Tent!
Specifications
Capacity: 2-3 people (650 lbs)
Ladder: 7.5 foot telescopic aluminum (no additional extension required for aftermarket lifts)
Frame: 1 inch aluminum frame, all aluminum joints
Mattress: 3 inch high-density foam, anti-condensation mat
Fabric: 280g ripstop poly/cotton, UV, water, and mold resistant
Rainfly: Lightweight PU-coated oxford polyester, vinyl sunroof window
Cover: Black, heavy-duty, laminated, 600 GSM PVC cover
Size (closed): 56 x 48 x 10 (inches)
Size (sleeping): 56 x 96 x 52 (inches)
Weight: 150 lbs.
Warranty: 1-year manufacturer warranty
Rooftop Tent On Truck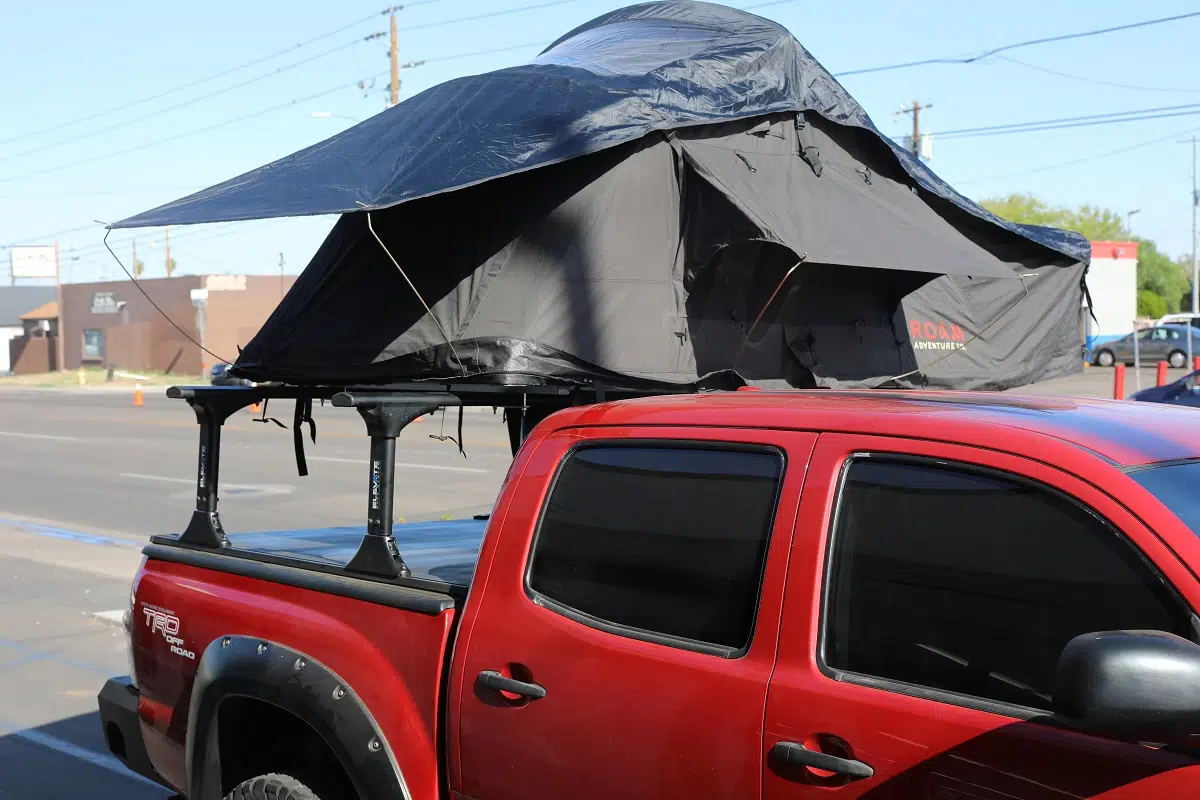 Rooftop Tent On Jeep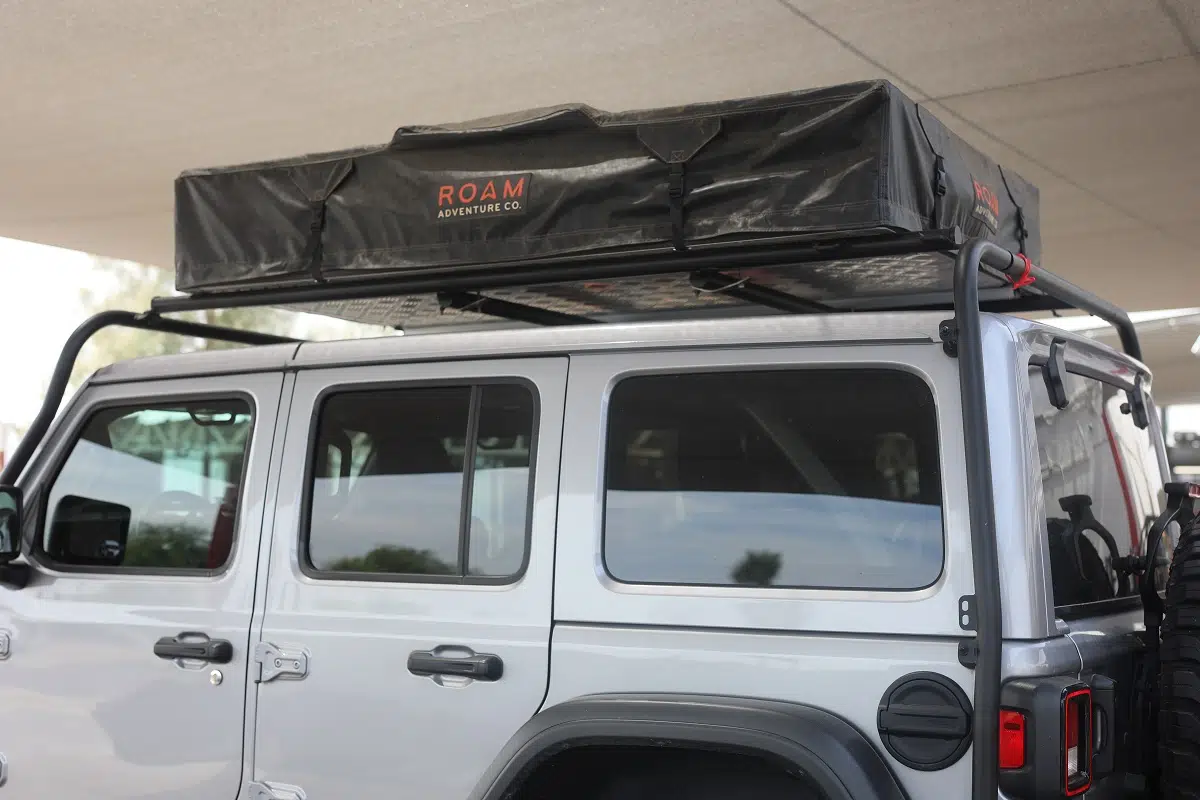 Rooftop Tent On Overland Vans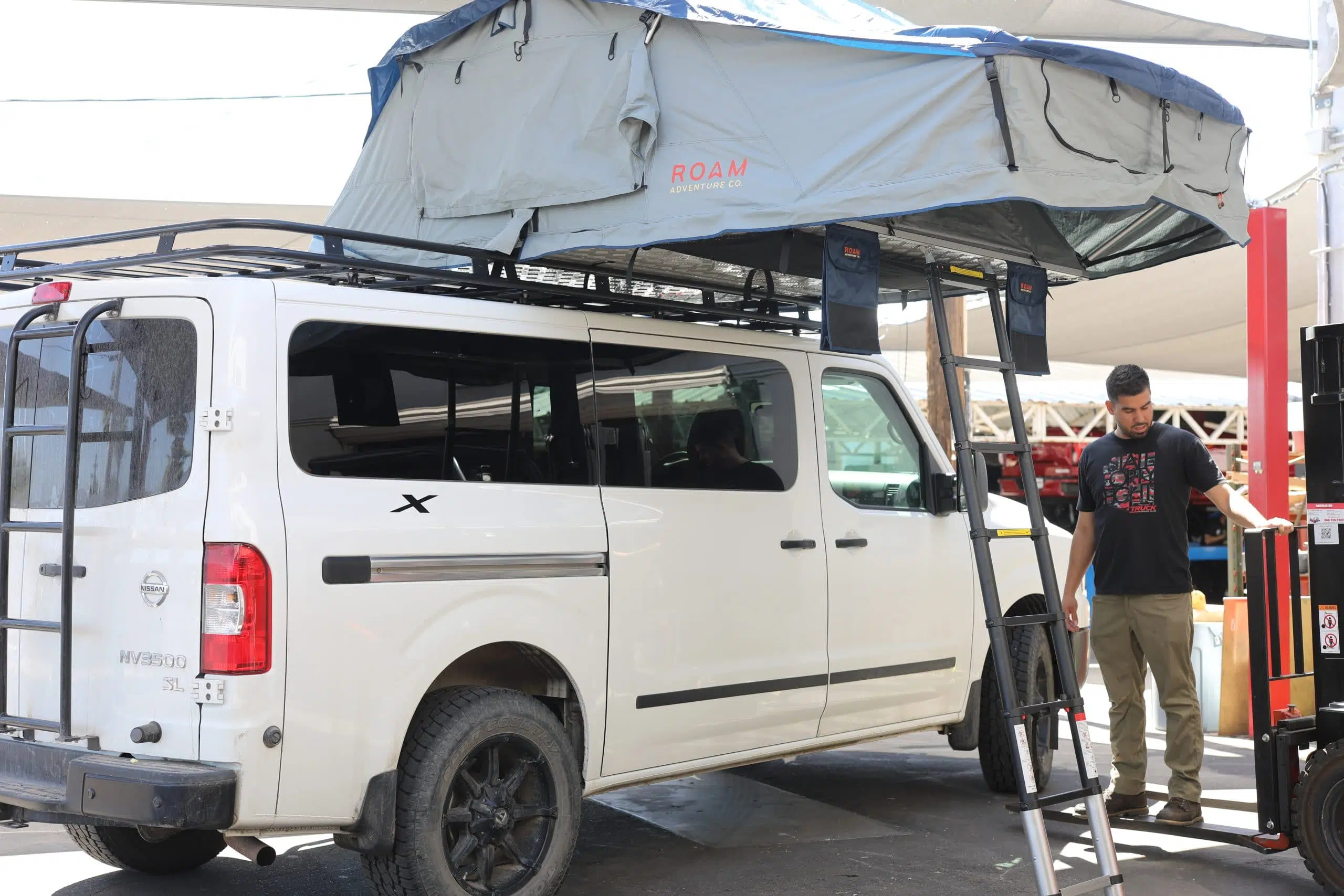 Rooftop Tent On SUV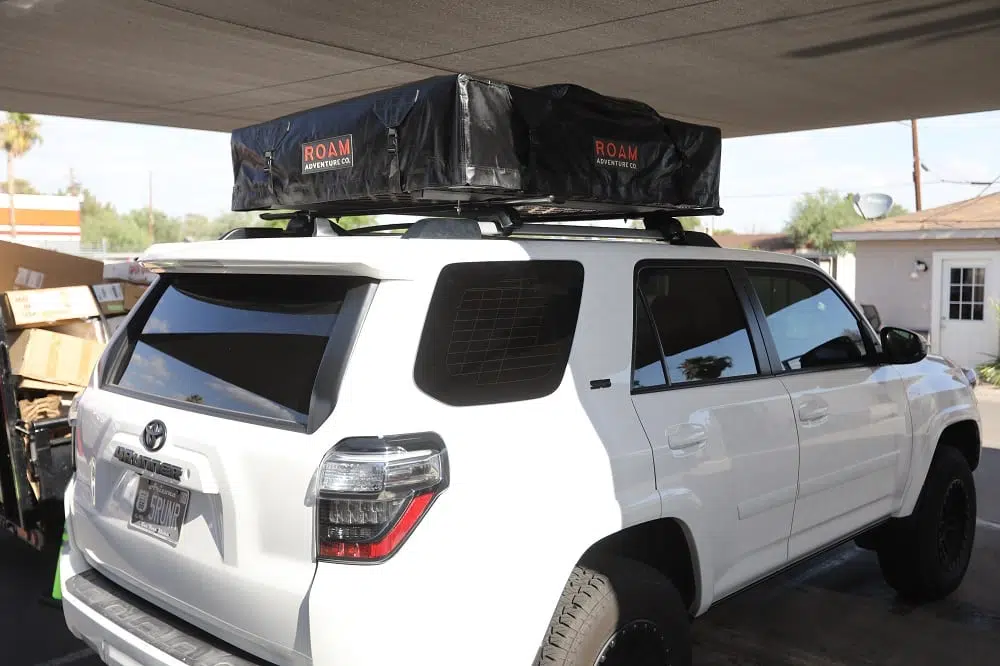 Rooftop Tent On Crossovers