Tacoma 6′ Regular, Access & Double Cab
$2,299.99
Same days Installations Available ,No appoiontment necessary
Description

Features:
Heavy-Duty Aluminum Construction
Ability To Add Rack Accessories (Yakima, FrontRunner, Elevate)
NEW XR Rails Work With Most T-Slot Accessories
Matte Black Textured Finish
Low-Profile, Sleek Appearance
Custom Fit To Truck Bed (No-Drilling Required)
Clamp-On Install Takes Less Than 1 Hour
The RetraxPRO XR is one of the best retractable tonneau covers available for any truck. This heavy-duty aluminum retractable truck bed cover allows for rack accessories to be built on-top of the truck bed. Featuring the new XR rails, the T-Slot rail allows for customization. Truck Access Plus has installed thousands of RetraxPRO XR truck bed covers for local and out-of-state customers with positive reviews, almost no complaints or issues. This is the best investment to make for truck bed security, style, weather-protection, and overall quality.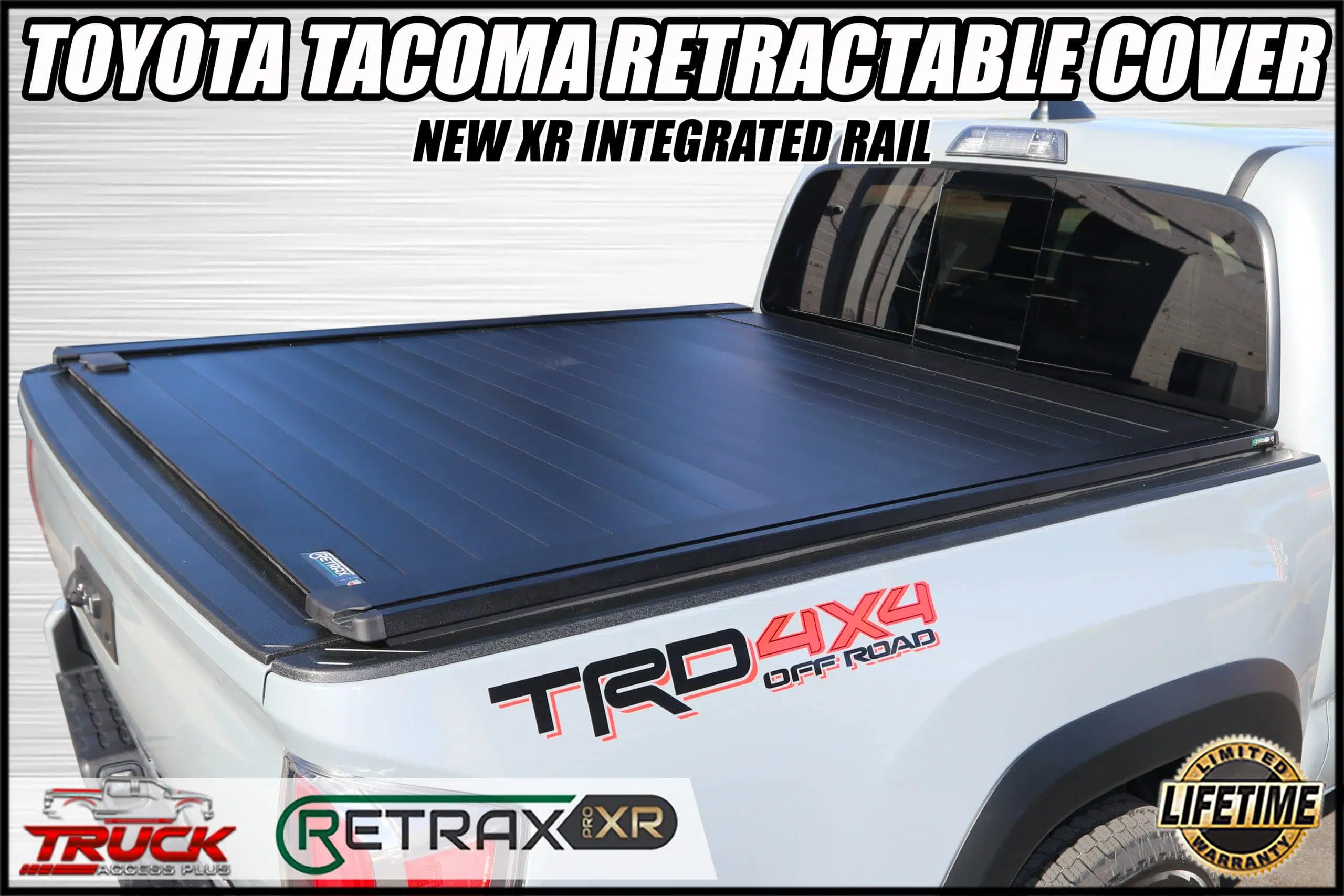 FEATURES
Compatible with most T-slot accessories from Rhino Rack, Yakima, Thule, and many more.
Increased Cargo Capacity Above & Below the Cover while maintaining functionality of the cover with loaded cargo.
Constructed from heavy-duty aluminum slats in a scratch-resistant matte finish that is engineered to retract without trapping dust, wear out or freeze.
The patented low-profile design incorporates a front cover that is flush with the truck bed cover, which streamlines the overall appearance and provides a firm, dependable seal to help to keep the truck bed dry.
Sealed ball-bearing rollers mounted onto the aluminum support beams allow the RetraxPRO XR truck bed cover to retract or close effortlessly without the use of springs or any kind of mechanism no moving parts to jam, freeze or fail.
FAQ:
How Does The RetraxPRO XR Lock & Secure Cargo?
The RetraxPRO XR has a key-lockable ability at any point along rail system, it also is secure when the tailgate is locked. Most trucks already have tailgate locks built into truck. In addition, the RetraxPRO XR operates independently from tailgate: which allows the ability to go out to truck bed and open the bed cover without having to lower tailgate.
How Durable Is The Aluminum Construction?
The RetraxPRO XR is the heavy-duty retractable bed cover built for truck owners who only put the best-quality accessories on the truck. The industrial-strength aluminum slats are strong enough to stand on and can support up to 500lb+ of weight on top.
Is The RetraxPRO XR Weather-Resistant?
The RetraxPRO XR is very weather-resistant and weather-tight, this particular install does come with drain tubes which help keep the water out. It also has a thicker weather-seal built in underneath the rail system which prevents water from pouring in. There is weather-sealing in the front and rear of the bed cover as well. This is not a waterproof bed cover but it will keep the majority of all weather out.
=
AVAILABLE PRODUCTS
ALL PRODUCTS AVAILABLE
| Year | Make | Model | Cab | Bed Size |
| --- | --- | --- | --- | --- |
| Year | Make | Model | Cab | Bed Size |
| 2016 | TOYOTA | TACOMA | ACCESS CAB | 6' Bed |
| 2016 | TOYOTA | TACOMA | DOUBLE CAB | 6' Bed |
| 2017 | TOYOTA | TACOMA | ACCESS CAB | 6' Bed |
| 2017 | TOYOTA | TACOMA | DOUBLE CAB | 6' Bed |
| 2018 | TOYOTA | TACOMA | ACCESS CAB | 6' Bed |
| 2018 | TOYOTA | TACOMA | DOUBLE CAB | 6' Bed |
| 2019 | TOYOTA | TACOMA | ACCESS CAB | 6' Bed |
| 2019 | TOYOTA | TACOMA | DOUBLE CAB | 6' Bed |
| 2020 | TOYOTA | TACOMA | ACCESS CAB | 6' Bed |
| 2020 | TOYOTA | TACOMA | DOUBLE CAB | 6' Bed |
| 2021 | TOYOTA | TACOMA | ACCESS CAB | 6' Bed |
| 2021 | TOYOTA | TACOMA | DOUBLE CAB | 6' Bed |
| 2022 | TOYOTA | TACOMA | ACCESS CAB | 6' Bed |
| 2022 | TOYOTA | TACOMA | DOUBLE CAB | 6' Bed |
| 2023 | TOYOTA | TACOMA | ACCESS CAB | 6' Bed |
| 2023 | TOYOTA | TACOMA | DOUBLE CAB | 6' Bed |