Elevating the Red Ram 1500 with Premium Accessories at Truck Access Plus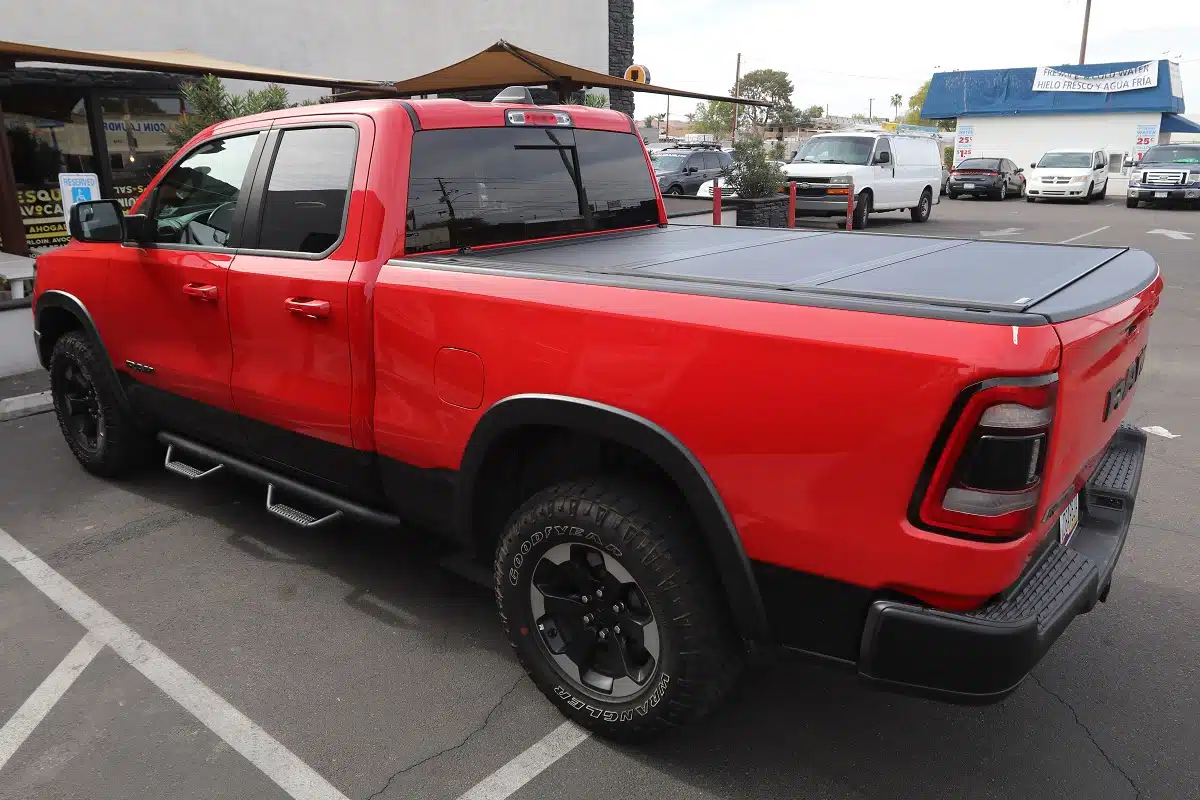 Introduction: After driving off the dealership lot with a brand-new red Ram 1500, one enthusiastic owner wasted no time in seeking out the expertise of Truck Access Plus to further enhance their pickup truck. Aiming to optimize both functionality and aesthetics, the team at Truck Access Plus embarked on transforming this already impressive vehicle into a true standout on the road. Through the installation of high-quality accessories, the Ram 1500 received a customized touch that elevated its performance and appeal.
Undercover Armor Flex Hard Folding Cover: Uncompromising Protection and Style One of the key additions to the Ram 1500 was the Undercover Armor Flex hard folding cover. Crafted from durable aluminum, this cover provided robust protection for the truck bed while maintaining a sleek and low-profile appearance. With a lockable rail system, the cover ensured that valuable cargo remained secure even when the tailgate was closed. Its sturdiness was further emphasized by its ability to support weight, allowing users to stand on it when necessary. The top of the cover featured a Line-X finish, adding both visual appeal and extra durability. Offering a 10-year warranty, the Undercover Armor Flex provided long-lasting peace of mind.
N-Fab Steps: Enhancing Accessibility and Style To further enhance the functionality and aesthetics of the Ram 1500, the team at Truck Access Plus installed a set of N-Fab steps. These sturdy and stylish steps provided easy access to the cabin, making entry and exit more convenient for both driver and passengers. With their durable construction and eye-catching design, the N-Fab steps not only improved practicality but also added an attractive visual element to the truck's exterior.
The Beloved Red Ram 1500 It's worth noting that the Ram 1500, in its original form, already boasts an impressive reputation. With its powerful performance, stylish design, and comfortable interior, the red Ram 1500 has garnered the admiration of many truck enthusiasts. By adding premium accessories, the owner has taken their truck to the next level, amplifying its capabilities and personalizing it to their unique preferences.
Conclusion: Truck Access Plus proved to be the ideal destination for transforming a red Ram 1500 into a standout vehicle that seamlessly blends style and functionality. With the installation of the Undercover Armor Flex hard folding cover, the truck's bed received unparalleled protection, all while showcasing a sleek appearance. The addition of N-Fab steps improved accessibility and enhanced the truck's overall appeal. Whether you're looking to optimize your truck's performance or simply add a touch of personalization, Truck Access Plus in Phoenix, AZ is the go-to source for professional installation. To explore these accessories and more, call 602-273-9284 or email their team to order online and have your products shipped directly to your doorstep. Don't miss the opportunity to take your truck to new heights with Truck Access Plus.