2023 Ram 2500 Power Wagon: Olive Green Pearlcoat Beauty with Ram Boxes and RetraxPro MX
If you're in the market for a robust and stylish heavy-duty pickup truck, look no further than the 2023 Ram 2500 Power Wagon. This remarkable truck is built to tackle the toughest challenges while providing you with unparalleled comfort and convenience. In this spotlight, we'll delve into the allure of the Olive Green Pearlcoat 2023 Ram 2500 Power Wagon equipped with Ram Boxes and the RetraxPro MX tonneau cover.
Olive Green Pearlcoat: A Striking Exterior
The Olive Green Pearlcoat is more than just a color; it's a statement. It adds a touch of sophistication and uniqueness to your Ram 2500 Power Wagon, setting it apart from the crowd. The rich, deep green hue not only looks exceptional but also complements the ruggedness of the Power Wagon, creating a harmonious blend of style and strength.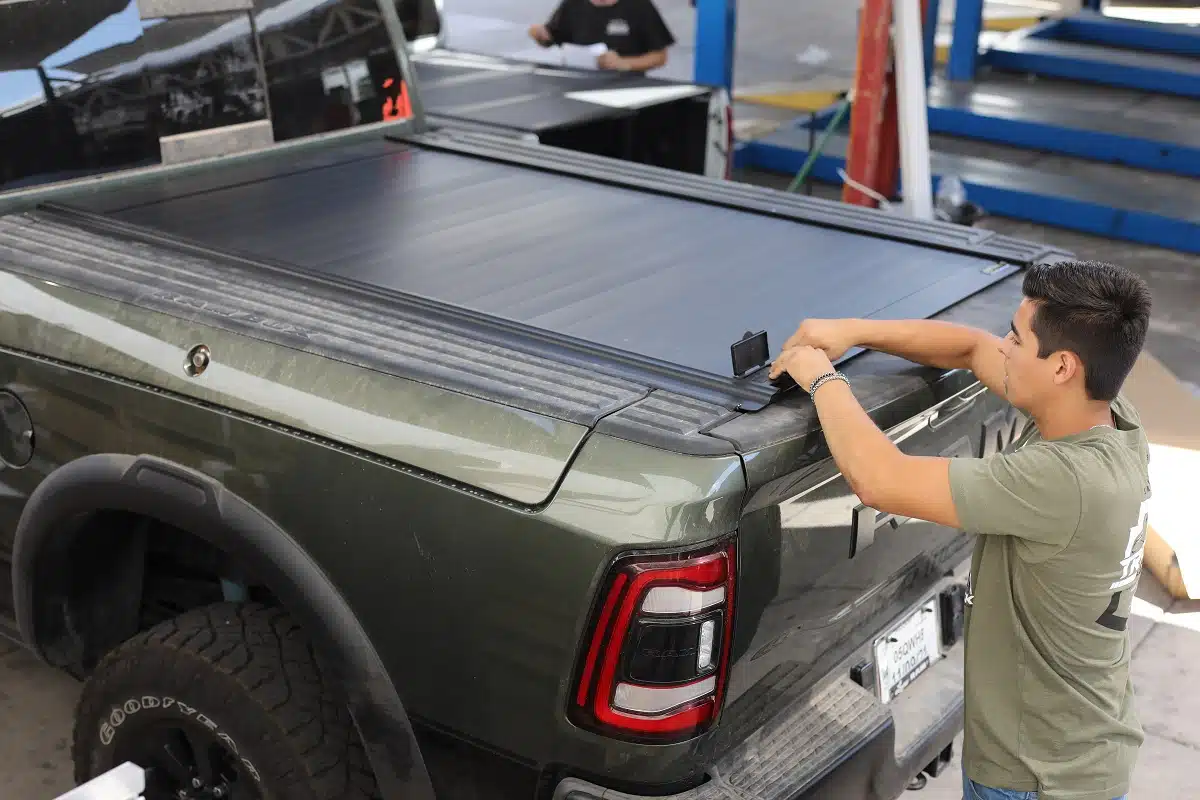 Key Exterior Features:
1. Aggressive Front Grille: The Power Wagon's signature grille boasts a distinctive design, exuding power and dominance on the road.
2. Rugged Off-Road Styling: With oversized all-terrain tires, blacked-out accents, and a lifted stance, the Power Wagon means business, whether you're on or off the beaten path.
3. Ram Boxes: These integrated, lockable, and drainable storage compartments offer secure storage for tools, equipment, and other essentials while preserving your truck bed's full capacity.
Interior Comfort and Technology
The interior of the 2023 Ram 2500 Power Wagon is as impressive as its exterior. You'll find a spacious and luxurious cabin that caters to both driver and passenger comfort. The truck is packed with advanced technology and features, including a user-friendly infotainment system, premium upholstery, and ample legroom.
Notable Interior Features:
1. Uconnect Infotainment: The Uconnect system provides seamless connectivity, navigation, and entertainment options through a user-friendly touchscreen interface.
2. Leather-Trimmed Seats: Sink into plush leather-trimmed seats that offer both comfort and durability, making long drives a breeze.
3. Class-Leading Interior Space: With ample headroom and legroom, both front and rear passengers can enjoy a comfortable ride.
RetraxPro MX: Advanced Tonneau Cover
To enhance the functionality of your Ram 2500 Power Wagon, you've opted for the RetraxPro MX tonneau cover. This retractable cover is designed with convenience and security in mind.
Key Benefits of the RetraxPro MX:
1. Secure Cargo: Keep your gear, tools, and belongings safe and protected from the elements and potential theft with the RetraxPro MX's robust aluminum construction.
2. Easy Access: The retractable design allows you to access your truck bed quickly and effortlessly. Whether you're loading groceries or unloading camping gear, it's a breeze.
3. Weather Resistance: The cover's sealed ball-bearing rollers and matte finish ensure that it not only looks great but also provides reliable weather protection.
4. Low-Profile Design: The RetraxPro MX's low-profile design complements the Power Wagon's aesthetics while improving fuel efficiency.
Truck Access Plus: Taking Convenience to the Next Level
You've also opted for the Truck Access Plus package, which enhances your Ram 2500 Power Wagon's convenience and utility.
Key Features of Truck Access Plus:
1. Tailgate Assist: The tailgate assist feature makes opening and closing the tailgate virtually effortless, even when it's loaded with cargo.
2. Bed Lighting: Illuminate your truck bed with ease, making it convenient to work during the night or in low-light conditions.
3. Bed Liner: A rugged bed liner protects your truck bed from wear and tear, ensuring it remains in pristine condition.
In conclusion, the 2023 Ram 2500 Power Wagon in Olive Green Pearlcoat with Ram Boxes and the RetraxPro MX tonneau cover, along with the Truck Access Plus package, offers the perfect blend of style, performance, and convenience. Whether you're conquering challenging off-road trails, hauling heavy loads, or simply cruising in style, this Power Wagon is up for the task. Experience the power, luxury, and functionality of this remarkable truck for yourself and elevate your driving adventures to new heights.