Introducing the 2023 GMC Sierra AT4 (Red) with AMP Research Power Steps from Truck Access Plus
Introduction:
The 2023 GMC Sierra AT4 in striking red is a powerhouse pickup truck that embodies rugged elegance and off-road capability. Known for its performance-oriented features and cutting-edge technology, the GMC Sierra AT4 has become a favorite among truck enthusiasts. This page will highlight the key features of the 2023 GMC Sierra AT4 in red, focusing on its visit to Truck Access Plus to get equipped with the advanced AMP Research Power Steps.
Exterior Design:
The 2023 GMC Sierra AT4 makes a bold statement with its robust design and commanding presence. In this vibrant red hue, the truck exudes a sense of adventure and confidence on the road. The AT4's aggressive front grille, distinct LED lighting, and signature red recovery hooks exemplify its off-road prowess. Large fender flares house all-terrain tires, emphasizing its go-anywhere attitude. The muscular lines and aerodynamic sculpting add to its visual appeal, making the Sierra AT4 a head-turner in any setting.
Performance and Capability:
Under the hood, the 2023 GMC Sierra AT4 packs a powerful punch. Equipped with a high-performance engine, such as a V8 or a turbocharged V6, this truck offers impressive horsepower and torque, ensuring it can handle the toughest tasks and demanding terrains. The AT4's advanced suspension system with Rancho monotube shocks provides a smooth ride on highways while delivering exceptional off-road capability. Whether towing heavy loads or navigating rocky trails, the Sierra AT4 excels in every aspect.
Interior Comfort and Technology:
Step inside the 2023 GMC Sierra AT4, and you'll be greeted by a refined and spacious interior designed with comfort and convenience in mind. Premium materials, available leather-appointed seats with AT4 embroidery, and real aluminum trim elevate the cabin's luxury and sophistication. The front seats are power-adjustable and feature heating and ventilation options for added comfort during all seasons.
Advanced technology features abound in the Sierra AT4. An intuitive infotainment system with a large touchscreen display, smartphone integration, and a premium sound system keeps occupants connected and entertained throughout their journeys. The driver-assistance technologies, such as adaptive cruise control, lane-keeping assist, and blind-spot monitoring, enhance safety and confidence on the road.
AMP Research Power Steps Installation:
To further enhance the convenience and accessibility of the 2023 GMC Sierra AT4, the proud owner of the red Sierra AT4 decided to visit Truck Access Plus in Phoenix, Arizona. There, they chose to equip their truck with the renowned AMP Research Power Steps, specifically tailored for the Sierra AT4 model.
AMP Research Power Steps are state-of-the-art retractable running boards designed to automatically extend when the doors are opened, offering a sturdy and reliable stepping platform. Once the doors are closed, the power steps retract seamlessly, maintaining the Sierra AT4's sleek appearance and ground clearance. These power steps are a perfect addition for truck owners seeking easier access to their vehicles, especially for lifted trucks like the Sierra AT4.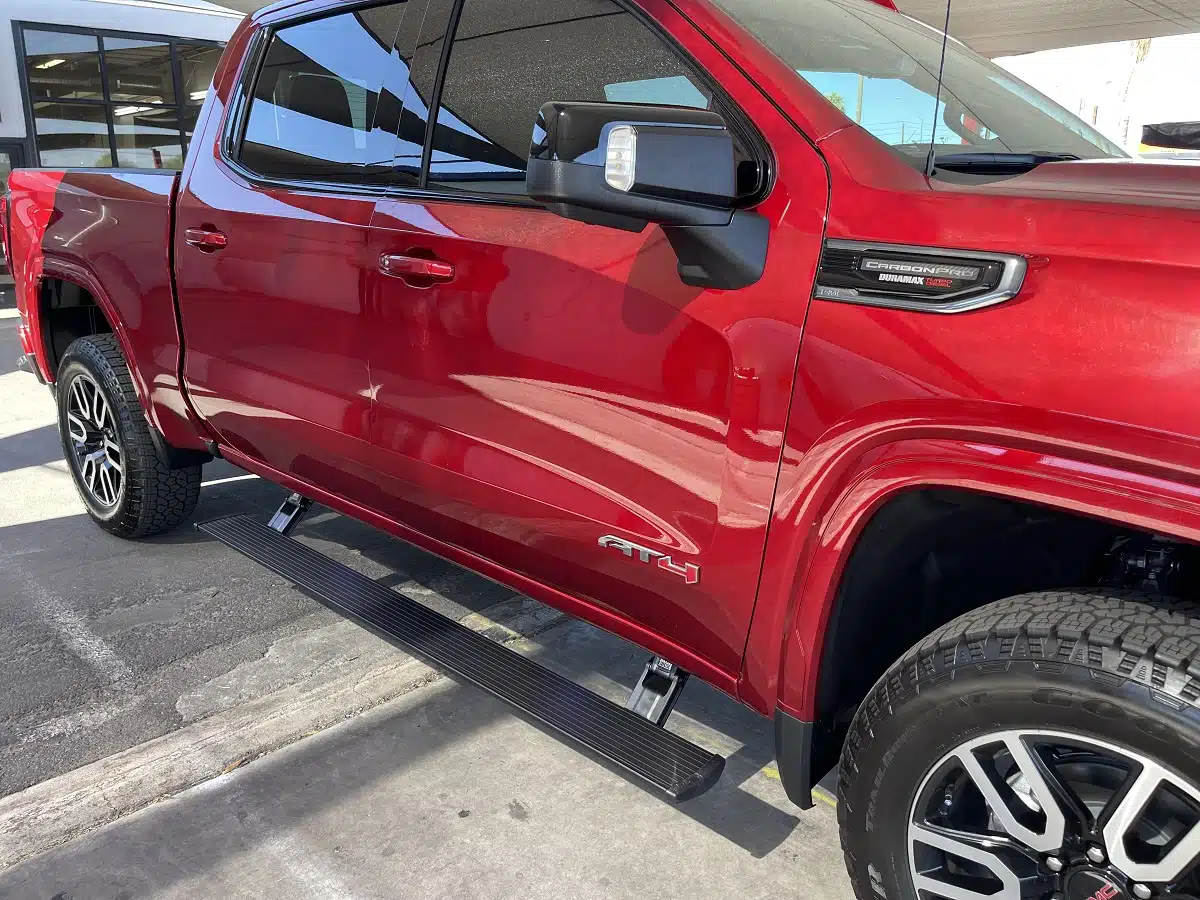 Conclusion:
The 2023 GMC Sierra AT4 in red is an exceptional combination of performance, luxury, and off-road prowess. Its visit to Truck Access Plus to install the AMP Research Power Steps showcases the commitment of truck owners to customize their vehicles for optimal functionality and convenience. With its eye-catching appearance, powerful performance, and advanced features, the GMC Sierra AT4 remains a top choice for those seeking a versatile and capable pickup truck.